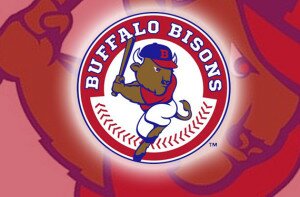 On paper, the Bisons appeared to be in for a solid series versus Lehigh Valley.
Buffalo entered the series as the 2nd best hitting team in the International League while the Iron Pigs displayed the second worst team ERA in the IL.
17 innings and three runs later, the Bisons are learning that games aren't played on paper as the Herd fell 5-3 to Lehigh Valley on a beautiful night for baseball at Coca-Cola Field.
Lehigh Valley starter Zach Miner pitched a gem, tossing seven innings allowing only one run on three hits, as Buffalo's bats remained cold for the second consecutive night.
After a fast paced first two innings, Mike Martinez put the Iron Pigs on the board first with a two-run homer in the 3rd to put Lehigh Valley on top 2-0.
The Iron Pigs added two more runs in the fourth as they roughed up Buffalo starter Chad Jenkins in his Triple-A debut.
Cody Overbeck continued his solid hitting in the series, hitting a RBI single in the fourth to put Lehigh Valley up 3-0, his fourth RBI of the series.
One batter later, Steve Susdorf extended Lehigh Valley's lead to 4-0, singling home Overbeck to give the Iron Pigs a commanding lead.
Bisons starter Chad Jenkins finished the night allowing five runs and six hits in only five innings of action after being sent down from Toronto earlier in the week.
Down 5-0 entering the seventh, Buffalo tried to rally their way back into the game.
Mauro Gomez hit a solo shot over the left field wall to leadoff the seventh to end the Bisons 17-inning scoreless drought, bringing the score to 5-1 Iron Pigs.
Buffalo added two more runs in the eighth to cut Lehigh Valley's lead down to 5-3.
Jim Negrych singled in a run to right to cut the Iron Pig's lead down to 5-2. Then, Luis Jimenez drove in a run on the sacrifice to make the score 5-3.
With runners on first and third and two outs, Mauro Gomez had a chance to be a hero and tie the game but couldn't come up big in the clutch, striking out to end the Bisons rally.
Buffalo couldn't score in the ninth and wound up falling 5-3, their second consecutive loss without the suspended Marty Brown in their dugout.
The Bisons fall to 31-27 with the loss as they continue to struggle at home. The Herd returns to action early on Thursday morning for a special 10:35am Kid's Day start.